What Are The New London Marathon 2021 Bag Drop Rules?
There is no bag drop at the start line for the London Marathon 2021, so you need to be extra prepared for race day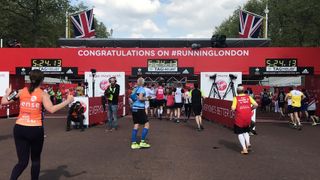 (Image credit: Unknown)
It's fantastic that the London Marathon is able to go ahead at all in 2021. It's going to be a different event from usual, but – touch wood – 40,000 people will be able to run the course, in person, which will be an amazing experience.
To make that possible, there is one particular change to the usual routine that runners need to be aware of: there is no bag drop at the start of the race. Instead you leave your kitbag at the Expo when picking up your race number earlier in the week, and it is taken from there to the finish line for you to collect afterwards.
This means a longer bag drop process that requires a little more thought than usual, which is detailed in the Six Steps to the Start Line email sent out by the organisers, which can also be found on the London Marathon website (opens in new tab).
The process starts by updating your contact details and giving an estimated finish time. You will receive an email by Friday 27th August asking for this info, and have until Sunday 5th September to respond.
It's essential you make sure your details are right because they will be used to send out your official race kitbag, which will arrive by Friday 24th September. Load this up with everything you think you'll need at the end of the race and drop it off at the London Marathon Expo when you collect your race number.
See related
The Expo runs from Wednesday 29th September to Saturday 2nd October at the ExCel in east London. You have to go there to collect your race number anyway, but there's now an extra very important thing to do there, which is leave your bag.
You will need to show proof of a negative lateral flow COVID-19 test to enter the Expo. This can be acquired through a free home lateral flow test kit. Register the test with the UK government to get an official negative result.
Your kitbag will be waiting for you at the finish line of the race along with a couple of extras. The organisers will add your race medal and T-shirt, plus a bottle of water and a sports drink. Where your bag is found at the end of the race will depend on your estimated finish time, so be realistic when entering that to make life a bit easier for yourself.
The changes to the bag drop for the London Marathon 2021 will make running the event a little trickier than usual, but with a bit of careful planning it shouldn't affect your race too much. If you want to wear more clothes than just your running kit to the race, opt for gear you're happy to give away – the British Heart Foundation will be accepting donations at the start.
If you cannot make it to the London Marathon Expo, you can nominate someone to drop off your kitbag and collect your race number for you. They'll also need a negative COVID-19 test to show to enter the Expo, and to act on your behalf they'll need a letter from you authorising them to collect your number and drop off your kitbag, plus a photocopy of your passport or driving licence. Plus their own ID. You might owe them a serious favour after all that.
Sign up for workout ideas, training advice, the latest gear and more.