What's It Like To Run The London Marathon When You Have Parkinson's?
Joe Lacy, who will be running the London Marathon for the third year in a row in 2018, knows all too well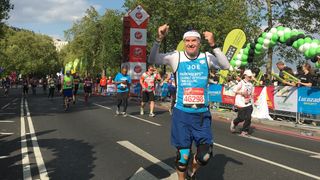 (Image credit: Unknown)
It doesn't matter who you are or what shape you're in, running a marathon is hard work, and it takes a lot of motivation to get through it. One of the best sources of that motivation is to run for a cause you believe in, and that's what has inspired Joe Lacy to sign up to run his third consecutive London Marathon this year.
Lacy, 62, has Parkinson's disease and runs to raise money for Parkinson's UK. Coach spoke to Lacy about how the disease affects his running, and how exercise can help with the physical and mental symptoms of Parkinson's.
When were you diagnosed with Parkinson's?
I was diagnosed about four years ago. One of my colleagues was walking behind me in the corridor one day and he said, "Do you realise you're not swinging your left arm at all? It's stuck by your side." Later I noticed I had a shake in my left side, which I put down to stress. I was going through a difficult time at work and I thought it was just stress manifesting itself in that way.
It got worse and I had a couple of incidents during that summer where I felt very strange and that something was definitely wrong. I went to a neurologist and they went through the process of ruling out anything else, because there's no test for Parkinson's.
What made you start running marathons?
Once I was diagnosed I was lucky enough that I met a neurologist who encouraged me to get a mixture of medicine and exercise. Being fairly fit at the time anyway was a huge advantage to me. I think that's true of anybody who has any kind of medical condition – you can deal with it better if you have a healthy body.
I threw myself into all forms of fitness. Golf, swimming, bike, running, gardening even. I had run several half marathons and planned to run a full marathon, but I was never fit at the right time. Eventually I thought, "Now's the time, if I'm ever going to do it".
I entered the 2016 London Marathon with Parkinson's UK and that was such an uplifting experience. The crowds of people along the sides… every one of them cheering you on even though they have no idea who you are. That anonymous support is just really uplifting. It encouraged me to go and do another one.
And now you are training for your third London Marathon?
That's right. I've got a couple of niggly little injuries at the moment which I'm trying to address. I'm not training as much as I was in other years – I'm trying to do a bit more on the bike and swimming to get my fitness up without pounding the feet.
How does Parkinson's affect your training?
I think the hardest thing about training with Parkinson's is motivation. I don't jump out of bed in the morning because I'm stiffer than I should be. You have to work on motivation. Parkinson's is a lack of dopamine production, and dopamine is actually a motivator as well. When you have less of that you have less motivation to do the physical exercise that you need to help you. It's a double whammy.
Are there any other physical symptoms you experience?
I have a little bit of weakness on my left side, but I think that's always been the case – I don't know how much of that is Parkinson's.
The traditional Parkinson's gait is bit of a drag. It's hard to describe but if you don't watch it you'll end up kind of shuffling along. I have to make a firm purposeful step to get my left foot down properly, rather than drag it. And I get a lot of grabbing with my left toes, so consequently I get cramp after about two or three kilometres and I have to walk that off. That's one of the physical aspects that is quite awkward.
The other one is… not a frozen shoulder, but it's like a frozen shoulder. It's another symptom that's common in Parkinson's. When I'm running for a while, that shoulder kind of tenses up and becomes quite painful, and that brings on the shake even stronger because of anxiety. The mental aspect of anxiety is just unbelievable. When you get anxious about something, you start shaking. That's one of the things that made it impossible to continue working. Under any kind of a stressful situation, I would start to shake. When I'm running I'm kind of aware people will see me shaking – probably they don't, but I feel they might.
Does exercise helps with the mental and physical symptoms?
It does. Physically, if I was to go back to before I was diagnosed, when I would get out of bed in the morning I was really stiff and I'd have trouble getting my ankles to move. Now I do something active every day, I don't have that problem. I'm much better than I was.
The danger with Parkinson's is that you lose that motivation, stop doing the exercises and everything just gets worse. It's a vicious cycle. Physically I'm definitely better. I've overcome some of my physical symptoms.
And mentally… If you're studying for exams and you go for a run, you clear your head – it's like that. It helps to bring a bit of clarity to your mind in how you deal with things.
The other thing is that my doctor has not increased my medication much at all – only very little since I started. I think that my exercise has really limited the increase, so that's a very positive thing.
Does training for the marathon help motivate you?
Oh yeah, you've got to have a goal. I've always done my best work to deadlines. The two targets I have for the marathon are that I want to finish it regardless of the time and the second thing is the goal of raising as much money as possible, because we have this terrible disease that there's no cure for and it's been treated by the same medicine for almost 50 years. The research that's being done is really encouraging, but they can't keep doing that research without funding. So all I can do is raise as much money as possible and let Parkinson's UK make best use of that by funding the right projects, and I have a lot of faith in the way they work.
Do you have any fundraising tips?
One of the fundraising strategies I've used is to leave it quite late to start, because I've found that if you start too early people will put it off and won't get round to it. If you send it out with just two months to go, they'll do it straight away. I was the highest fundraiser for Parkinson's UK in 2016. I was absolutely delighted I got so much support.
See related
Now you're on your third marathon, do you have any advice for beginners?
It's very hard for people to think they could run a marathon, but I'm convinced that if you can run 5K, you can work your way up to the full distance. The problem with most people is that they set their targets too high. I see people crossing the line or I pass them on the road and they're absolutely wasted, because they go too fast at the start. They don't listen to their body. That's the key issue I would encourage people to think about – you've got to listen to your body. If it's too much for you, back off and pick a smaller target.
Also marathons can be very off-putting, because it's such a huge task. For Parkinson's patients any kind of movement that they do is going to help them. I get great benefits from Tai Chi and yoga as well. Both of those are excellent activities. So I don't want those people to be put off because they're never going to run a marathon – there are other things they can do. It makes a huge difference to just move rather than be stationary.
You can find Joe Lacy's fundraising page here. Parkinson's UK is supporting the World Parkinson's Day 2018 campaign Unite For Parkinson's, which aims to raise awareness of the disease. To find out more about the challenges people face and what you can do, visit parkinsons.org.uk
Sign up for workout ideas, training advice, reviews of the latest gear and more.