You Can Now Join A Virtual Running Club
Runners looking for support and advice can find it in the Run Things Run Club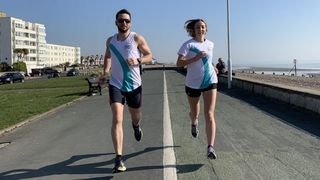 (Image credit: unknown)
There are any number of reasons why runners might not want to join a running club, ranging from there not being one nearby that puts on training sessions at convenient times, to a general dislike of running with other people.
However, that can mean people miss out on the many benefits that being part of a club brings, which includes having a group of like-minded individuals on hand to provide advice and support for your own running.
The new Run Things Run Club aims to make these benefits available to everyone who isn't a part of a running club. It doesn't have a physical location, instead being based entirely on social media, where members can get together to talk about their running, seek advice from experts and even arrange runs with others from the club local to them, if that takes their fancy.
You'll also get to race in the club's vest, and prepare using the training plans and sessions available on the Facebook page, which will be suitable for people of all abilities who are preparing for distances from 5K up to a marathon.
See related :
The club costs £25 to join and has been created by Run Things, which has previously put on a series of virtual running events that raised money for mental health charity Mind. These events would run over the course of a month and ended up spawning online communities of their own.
"We set out to bring runners of all abilities together in virtual events to fundraise for Mind," says cofounder Kevin Betts. "Things took off much quicker than we could have imagined. More than that, we accidentally created a community of runners who were inspired to engage in our events because of their own mental health challenges or those of loved ones.
"Our runners have shared some incredible stories about why they run, and why they enjoy virtual events and our online community. Some of their stories have been uplifting but others are utterly heartbreaking. Common to all has been their appreciation of our hugely supportive community of runners."
The Run Things Run Club will officially launch on 1st May, but you can join it now on the Run Things website (opens in new tab), where you'll also find info on the three virtual events (opens in new tab) the company is putting on this year.
Sign up for workout ideas, training advice, reviews of the latest gear and more.