The Parkrun World Record Holder On How To Improve Your Time
Even if you're not shooting for a world record yourself, Charlotte Arter's tips can help you nail your next parkrun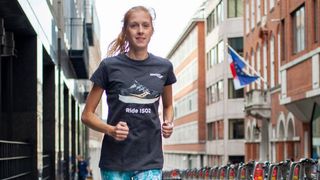 (Image credit: unknown)
There are all sorts of reasons to make heading down to your local parkrun a regular part of your Saturday mornings. The nationwide 5K events are all free and have a truly welcoming atmosphere, where people get together to start the weekend in the best possible way – by running loops of a local park and then having a chat afterwards.
One less well-known reason is that going to your local parkrun might yield the chance to run with some of the UK's best athletes. Well, maybe not run with, but at least see at the start before they blaze off into the distance.
Charlotte Arter is the British 10K champion and Welsh half marathon record holder, and uses the Cardiff parkrun as a chance to test her legs from time to time.
"I'm a huge advocate of parkrun," says Arter. "I think it's a fantastic organisation and people use it for different purposes. For me it's a bit of fun and a way to test where I'm at fitness-wise."
It's fair to say that Arter was in pretty good shape in January 2019, when she rocked up and ran a world record time for parkrun, finishing the 5K in 15 minutes 50 seconds.
"I had my own record in mind, which was 16:10," says Arter. "So to run 15:50 was great. I didn't know until later on it was a record!"
Naturally we couldn't let a parkrun world record holder out of our sights without asking for some tips on how we could improve our own parkrun PB, even if a world record is slightly beyond us.
See related :
"It's important to make sure you have a bit of variety in your training and you're not just going out for easy runs," says Arter. "You're never going to improve that way. One session a week should be a bit quicker. You can do this during a normal run – do ten one-minute sprints where you're running at quicker than your 5K pace, with short recoveries. It's also good to have one slightly longer run a week to build endurance.
"Consistency is also really important. Everyone lives such busy lives working and training, but if you can establish a weekly routine where you're running regularly that makes a huge difference. People who run for a week, then don't run for a week or two… that's when you're going to struggle."
We also asked Arter how people should go about pacing a parkrun. Mainly whether you can just go for broke and hope to hold on.
"That's what I did! I think my coach secretly had it planned," says Arter. "He told me to follow a group of guys and they went through the first mile ridiculously quick. I was like, 'How am I going to hold on?' And then you just kind of do. I'm not saying that's the tactic for everyone, but you can afford to go out a little bit quicker with a 5K and hopefully you won't fall to pieces completely in the latter stages."
Arter also recommends trying a few different strategies with your parkruns – there's one every week, after all, so it doesn't matter so much if one or two don't go to plan.
"I think the more you do, the more you'll get used to what works for you," says Arter. "If you're a regular parkrunner, try different ways of running it. Try going hard and seeing what happens, and try pacing it to run evenly. It depends on the kind of runner you are."
Charlotte Arter is a Saucony UK athlete and is supporting the launch of the Saucony Ride ISO 2
Buy the women's Ride ISO 2 from Saucony | Buy men's from Saucony | £120
Sign up for workout ideas, training advice, reviews of the latest gear and more.