Virtual London Marathon Tips: How To Plan For A Solo Marathon
Hot tip: Run loops to make your life easier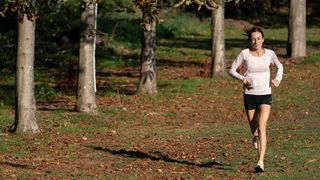 (Image credit: Unknown)
The London Marathon went virtual in 2020 with great aplomb. It set a Guinness World Record for the number of people running a remote marathon in 24 hours, with 37,966 runners covering the distance.
Although the mass-participation element of the London Marathon returns in 2021, the organisers are retaining the virtual event and 50,000 people have signed up to do it (entries are now closed).
Runners have to complete a marathon on the same day as the main event, running 42.2km on Sunday 3rd October. The run needs to be tracked via the Official Virgin Money London Marathon App to earn the race medal and T-shirt.
While there are some advantages to the flexibility of a virtual race, runners will of course miss out on both the special London Marathon atmosphere and the logistical support provided during the race.
That means careful planning is required to make sure your marathon is enjoyable. Last year we spoke to the London Marathon's resident coach, Martin Yelling, for some advice on how to plan your virtual run.
What advice do you have when it comes to route planning?
Fixing your route is really important, because you can make mistakes easily when you're tired. Set a finish line – a physical point that you know in advance. My recommendation would be to do loops. It's a bit more boring but you've got more control.
With no water stations on route, how should you stay hydrated?
It's really important for runners to think through the logistics of their event. Are you running loops? Are you carrying fluid?
People are running in different places around the world so you have to think what your environmental demands and conditions are, and then what your strategy is to meet them. For runners looking to run it in three hours they might just carry 250ml with them, but others might be out for six or seven hours, and they might need to stop and refuel with fluid. If the strategy is loops, you can make fluid accessible.
There also won't be any medical support available, so what should runners do to reduce any risks on that front?
Firstly you have to do the basics – make sure you've got everything you need to survive the distance, tell people where you're going and take some Vaseline with you!
Then you have to think about contingencies. What if it all goes wrong and you've got to make a choice when tired and emotional? Especially if you're running solo, not in a particularly populated place. Identify a "response person", let them know and have their number in your phone. It's a good idea to tell some people that you're doing it, but in the event that you need some help you have that response person. That could be anything from just some encouragement right through to saying you're in need of medical assistance.
Something I recommend is an app called what3words (opens in new tab). If you're in need of support and to tell somebody where you are quickly, you describe your location in three words by dropping a pin on a map. They put those three words into the same app to find out where you are. If you were on a country lane and somebody asked, "Where are you?", you might not be sure, you're by a tree! what3words will give you "orange, spanner, court" and those three words would give your response person a precise location within three square metres.
So I would say plan your route and share it with someone so they know where you are. Have an emotional support contingency, and then a full bail-out plan in case it all goes wrong.
Do you have any pacing tips for running a virtual event?
All the marathon pacing rules still apply. If you go out at a pace that you cannot hold, it is going to get hard and you're more likely to need those contingencies you put in place. Evenly paced, consistent running to get you through the distance is the best advice.
There are also some amazing flexibility benefits because you're doing it virtually. Because of how uncertain everything is at the moment, you might not have done all your training or be as fit as you'd like, so take the pressure off. If you want to stop, stop. Have a rest. Refuel, walk a bit. There doesn't need to be any pressure here.
The key thing is to accept your fitness level. Understanding and accepting where you're at is really important.
Should you take painkillers to deal with pain that arises during the run?
I keep seeing these flat-lays where people lay all their gear out, and there's always a packet of ibuprofen or something. My understanding is that taking a painkiller is only masking pain, pain that's there for a reason, and it can also cause gastrointestinal issues.
I would rather people listened to their body, noticed the discomfort they were experiencing, and worked safely within it. More often than not that means slowing down. That's not the end of the world. There are instances where the discomfort is really considerable, an injury, but even then you shouldn't manage pain with painkillers, particularly in a virtual event where you don't have race support.
If your body hurts, you need to make an adjustment. That doesn't necessarily mean you have to stop. It can, but most times when I've been really hurting it does pass. Unless it's something really acute and serious, you can work through it with patience. You've not got the pressure of time either, so you should just let yourself work through it. That's a safer option than smashing yourself and scoffing a load of painkillers.
See related
Any other tips for the day?
There are going to be a lot of people running at the same time. So for a little motivation, I'd say even if you're running on your own, remember – you're not really. There are 50,000 other people out there pounding 26.2 miles with you.
Also, if you're doing it on your own, line up some virtual spectators. Get people to call you at certain times, maybe at three hours, four hours, five hours. Or, you can say when you're going past people's houses so they can cheer you on.
Sign up for workout ideas, training advice, the latest gear and more.