Where To Try Olympic Sports in London
London 2012's legacy – getting you off the sofa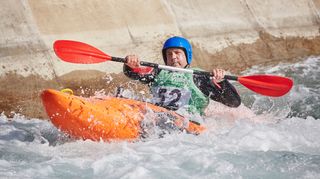 (Image credit: Unknown )
One of the more enjoyable symptoms of Olympics fever is a sudden passion for sports you haven't thought about once in the preceding 47-and-a-half months, when for a glorious fortnight you become engrossed with the fortunes of Great Britain's star archer and barely able to breathe during the skeet final. However, those brief flickers of passion rarely lead onto further support, let alone attempting the sports involved. Given the array of sporting opportunities available in London as part of the legacy of the 2012 Olympics, that's a shame, and one worth remedying by checking out at least one of the options below.
The Olympic paddlesports break down into two main sections – the bare-knuckle speed of sprints or the technical challenge of slalom. Both have yielded some success for Team GB of late, with a one-two finish in the C-2 slalom one of the unexpected highlights of London 2012. Whatever your preference, be it canoeing or kayaking, slalom or sprint, it's an excellent way to get fit. As a cardio exercise that focuses on the upper body, you'll be bulking up and ramping up your heart rate with every moment you spend on the water.
Where To Go: Lee Valley White Water Centre
Every level of paddler is taken care of here, from beginners on calmer waters to experts flying around the whitewater circuits. Waltham Cross, Hertfordshire, gowhitewater.co.uk
RECOMMENDED: Team GB Slalom Canoeist Joe Clarke's Olympic Training Regime
Water Polo
Despite being a staple of the Olympic programme since 1900, water polo is yet to capture the British public's imagination outside of the games. This is shocking when you consider that Britain is the sport's second-most successful country behind Hungary, having claimed gold in the first four Olympic water polo events. However Team GB has only qualified for the tournament once since 1956, so recapturing that glory is only going to be possible if more people take to the water. Imagine swimming as fast as you can while someone else tries to drown you and you'll have some idea of the physical challenge involved in water polo. Few sports will get you as fit.
Where To Go
There are water polo clubs scattered around the capital. Find a team online – many offer beginner sessions so you're not plunged in at the literal deep end. londonswimming.org
Archery
Even though England bested the French at Agincourt on the back of their longbows, and the legend of Robin Hood is beloved by everyone, very few Brits seem keen on taking up a bow themselves. And yet archery will improve your upper body strength and is a renowned stress reliever, both thanks to the control of your breath required, and (obviously) the satisfaction of firing numerous arrows into a target.
Where To Go: 2020 Archery
Given the deadly weapons involved, archery isn't a sport for first-timers to try solo. This London club offers plenty of beginners' sessions and courses where you'll learn how to shoot arrows safely. Various locations near London Bridge, 2020archery.co.uk
Fencing
An Olympic ever-present, yet still very niche when it comes to popular appeal. There are a bewildering array of fencing varieties to try out, all of which provide the satisfaction of pretending you're Zorro. Agility, flexibility and coordination of an impressive standard are required to excel at fencing, which will also improve your cardiovascular fitness.
Where To Go: London Fencing Club
There's plenty to learn when you start fencing, from rules and traditions to techniques and tactics. London Fencing Club's beginner courses will set you on your way to becoming a capable swordsman, even if you don't get to wear a mask like Antonio Banderas. Various central venues, londonfencingclub.co.uk
RECOMMENDED: Why Sword Fighting Could be the Next Fitness Fad
Trampolining
If your memories of trampolining are restricted to childhood antics in gardens, the good news is that it hasn't got any less fun. The bad news is that you no longer have the fitness of an excitable child, and you'll quickly realise how tiring trampolining is. Part of the Olympics since 2000, it's a test of core strength, balance, coordination and courage. The last part comes into play when you attempt tricks and flips. It's easy on the joints, so runners tired of aching knees after running on tarmac will enjoy a springier floor.
Where To Go: Oxygen Freejumping
Oxygen Freejumping is fit to bursting with trampolines and all manner of bouncing-related activities. Practise your flips into a giant airbag, try a trampoline-based fitness class, or simply spring around until your legs give up. Acton W3, oxygenfreejumping.co.uk
Sailing
Finally, a niche sport the Brits are great at. In fact, Team GB tops the all-time medal table for sailing, which has been part of the Olympics since the first modern games in 1896. That success has meant any British Olympics aficionado has watched quite a bit of sailing over the past couple of decades, but it's far less likely they've then decided to give the sport a go themselves. The good news is there are numerous clubs around London ready to offer such a chance.
Where To Go: Docklands Sailing & Watersports Centre
Given the equipment involved, sailing is a little trickier to pick up than some of the other sports on this list, but you don't have to head out to the coast. The Docklands Centre has a boatload of sailing courses available for beginners, with private lessons also available. Isle Of Dogs, E14, dswc.org
Wrestling
This is a sport that has been a regular event at both ancient and modern Olympics alike, but it's also not one Brits have traditionally impressed at, with just three golds – all of which came at the London Games of 1908. There are two styles of wrestling at the Olympics – Greco-Roman and Freestyle – both of which require incredible strength and fitness to succeed in. It's definitely a sport that will get you in great shape, although thanks to the many weight classes, you don't have to worry about the prospect of going up against an invincible hulk twice your size.
Where To Go: London Fight Factory
The London Fight Factory is any capital-dwelling martial artist's dream, and they offer a thorough grounding in Freestyle wrestling. Be aware, however, that Stone Cold Stunners and Hulk Hogan Leg Drops are unlikely to win you any friends. Old Street, N1 and Golders Green, NW11, londonfightfactory.com/wrestling
RECOMMENDED: Types of Martial Arts to Get You Fit
Gymnastics
Great Britain may only have won eight gymnastics medals in total, but half of those came at the last games, so it's fair to say Team GB are a growing force in the sport. The extraordinary physique of gymnasts tells the story of its physical challenge, while the enjoyment of flipping yourself over in all directions will likely be remembered from school days. You might believe that your moment has passed when it comes to gymnastics, but you'd be wrong. Even if you're unlikely to make the Olympics, there's plenty you can learn and enjoy as a beginner adult.
Where To Go: East London Gymnastics Centre
Even if you're an exceptionally confident individual, it's definitely smart to start off with some supervised sessions when it comes to gymnastics. This east London centre is welcoming to all abilities, and will no doubt have you elegantly flying through the air in no time. Beckton, E6, eastlondongym.co.uk
Handball
Aside from a rock-bottom finish at London 2012, Britain's handball team has never qualified for the Olympics, so some fresh blood would undoubtedly be welcome in the sport's setup. You don't need much equipment to play handball, and the skills required – namely running, jumping and throwing – are likely already in your locker to some extent. Just don't get fooled into taking too many turns in goal, as one of the main skills required when you're there is a willingness to take a ball in the face.
Where To Go
Your best bet for starting out in the world of handball is to find a beginners' session with one of the several clubs based around London, all of which are listed at englandhandball.com. Or just pick up a handball, skim the rules online, and head to a local park with your mates for some fun.
Volleyball
Another sport where Great Britain's Olympic experience is limited to an appearance at London 2012, volleyball (of the indoor variety) has been part of the games since 1964. Fun and frenetic, volleyball is being played in sports centres across the capital at almost all times, you just have to find your local team and get spiking. For those keen on beach volleyball, which joined the Olympic line-up in 1996, bear in mind that Horse Guards Parade is no longer encouraging pick-up games.
Where To Go: Go Mammoth
Go Mammoth run leagues for indoor and outdoor volleyball, which you can join as an individual, with a couple of friends, or as a full team. Various locations, gomammoth.co.uk
For those who feel Go Mammoth's league play is beyond them, Go Spike runs beginner sessions all over the country. gospike.net
Sign up for workout ideas, training advice, reviews of the latest gear and more.