The Easiest Way To Start Playing Tennis
The Local Tennis Leagues programme has friendly leagues throughout Britain that are open to all abilities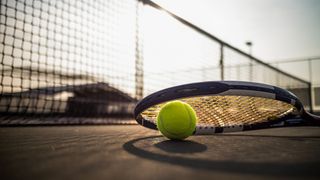 (Image credit: Unknown)
Tennis is not always an easy sport to play casually. For one, you need a partner to play with, and they need to be roughly your level or it'll quickly become a pretty frustrating affair.
The Local Tennis Leagues (opens in new tab) (LTL) programme can help. There's probably a league running at a set of courts near you without you even knowing about it. In fact there are 200 leagues all over Britain that cater to players of all abilities, whether you've never picked up a racket or are borderline pro level.
While leagues and ladders already exist within tennis clubs, if you're new to the sport they can be a little intimidating – plus they might not play on the courts near you. What's great about the LTL is that it just provides the framework for your league and matches you against players of a similar standard, then you and your opponent sort out when to play (within a set period) and pick a court that's convenient for both of you.
It costs just £18 to enter a round of the league, which consist of five to eight matches. Once you've found your closest league and joined, providing details of your experience, you'll be put into a group with five to 10 players of a similar ability. The groups are mixed-sex, singles leagues for the most part, though some offer women-only and doubles leagues.
Once the league is running you're given contact details for the others in your group so you can arrange your matches on a local court, splitting the cost if there is one. Each match is the best of three sets, and you win a point for every set you win. The person with the most points at the end of the round gets a prize.
Essentially the LTL acts as a matchmaker for tennis players in need of people to play with, and it's helped over 20,000 people play the game since launching in 2005.
See related
One of those players is Andy Wright, who was a keen tennis player and coach until he was diagnosed with early-onset Parkinson's at the age of 33. He gave up the sport after the diagnosis when he noticed it was limiting him physically, but after a six-year break he started to play again and now competes regularly in his local league through the LTL programme.
"I learned a lot about managing my Parkinson's over a full singles match," Wright says. "At the start I couldn't feel my feet and was incredibly stiff but as I loosened up I found that I got into it and was pleased to get three games in each set off a strong opponent.
"I've realised sport doesn't have to be competitive. There's something for everyone that can make you feel good and have fun."
You can see a video on Andy's story (opens in new tab) on the LTA's YouTube channel, and when that's provided you with even more impetus to start playing, head to the LTL website (opens in new tab) and find your local league.
Sign up for workout ideas, training advice, reviews of the latest gear and more.