Tennis Returns Soon! Book A Court In England Now And Use These Beginner Tips To Get Started
The English can play tennis outdoors from 29th March (at the earliest) and this expert advice will ensure you enjoy yourself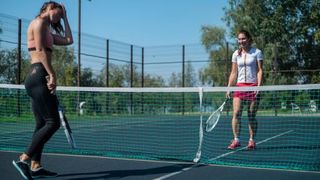 (Image credit: Unknown)
While we're not going overboard on the optimism just yet, England's roadmap out of lockdown has offered a glimmer of hope by putting in place provisional dates for the return of many kinds of sporting activities.
Tennis is one of the first activities to return, with play on England's outdoor courts due to be permitted from 29th March (single games are already allowed outdoors in Scotland, but there's no return date set for Wales). Something – anything – new to do after the winter's restrictions is very welcome, so it's well worth booking a court sharpish. A good place to start is the LTA's court finder (opens in new tab). (As the national governing body for British tennis, the LTA is also the best place to check for restrictions on the sport in your country (opens in new tab).) If you fancy more regular outings, see if there's a Local Tennis League (opens in new tab) to join near you – there are leagues for all levels.
If you're new to the sport, or expecting to be rusty after a long break, the LTA has lots of useful tips to help you enjoy your first trips to the court when it reopens. We've picked a few of our favourites below to get you started.
Use Lower Compression Balls
First up, pick your balls carefully. Lower compression balls are less bouncy and slightly easier to control when starting out. Balls come in three colours – red, orange or green – ranging from lowest to highest compression.
Decathlon sells affordable packs of three balls: red (opens in new tab) (£2.79), orange (opens in new tab) (£2.99) and green (opens in new tab) (£2.99).
Start In A Small Space
You don't have to use the whole court straight away. Begin by rallying without a net, progress to using the net and just playing in the service boxes, and gradually work your way to full-court play. Getting rallies going is key to enjoying the sport and improving, and there's little point sticking to the baseline and barely trading three shots each time – it's tiring and frustrating.
Concentrate On Over And In
When striking the ball, focus on having a low-to-high racket path and pushing the ball over the net – don't try to hit the ball with too much power. Most points in a beginner's game will be won by the other person making a mistake and rallying is the fun part at first, so slamming a forehand winner down the line just means you have to restart your rally.
Begin Points With 5-And-Live
When you do want to start playing for points, a good tactic is to use the 5-and-live rule to start rallies. This means you're not playing for the point until after the first five shots, so there's a co-operative element to each rally and you get to play more strokes in general, which will help you improve.
See related
Think Of Serving Like A Throw
Overhead serving is one of the hardest parts of tennis to get to grips with, but thinking of it like you're throwing the racket towards the ball can help. Toss the ball up, and use a throwing action to move the racket through the ball (try not to actually throw the racket). Again, focus on pushing the ball over and in – don't go for full power from the off.
Focus On Footwork And Positioning
If you're not in the right position to hit the ball, it won't really matter how good your forehand or backhand stroke is. Keep moving after hitting your shot and try to get back to the centre of the court and into a balanced, ready position as your opponent hits the ball – with feet shoulder-width apart and your hands in front of you. Then make sure you take your racket back early so you're ready to hit your shot when you reach the ball, and follow through with your swing after hitting, which will help the ball go in the right direction. Remember that low-to-high racket path too.
Sign up for workout ideas, training advice, reviews of the latest gear and more.