Does The New Bounty Protein Bar Actually Taste Like A Bounty?
We put Mars's muscle-building new Bounty to the only test that really matters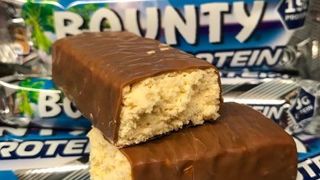 (Image credit: Unknown)
As we discovered when we undertook the task of trying as many protein bars as possible to provide you with a definitive list of the best, the most delicious protein-rich snacks are generally the ones that most closely mimic the taste and texture of real chocolate bars.
With that in mind we welcomed enthusiastically the news that Mars has released a protein-rich version of a Bounty bar. However, there's always the risk that cramming a load of protein into the coconutty treat could spoil its delicious essence. So we put the new Bounty bars to the taste test.
We won't lie – it was a bit disappointing. Instead of the coconut explosion you get from a normal Bounty, the flavour's a bit subdued. And the texture's chewier. That said, we concede it's a bit unfair to compare it with a real chocolate bar – especially since the flavour of the Bounty protein version does fare well against other gym-fuelling snacks.
Another big positive is its nutritional content – it's much healthier than a regular, two-bar Bounty (we're going to exclude the maniacs who only eat one half of a Bounty).
Swipe to scroll horizontally
| Header Cell - Column 0 | Bounty | Protein Bounty |
| --- | --- | --- |
| Calories | 278 | 192 |
| Fat | 14.8g | 5.7g |
| Sugar | 27.2g | 8.5g |
| Protein | 2.2g | 18.7g |
That's nearly a third fewer calories, less than half the fat and a third of the sugar, never mind the protein content.
The Bounty protein bar also fits well within the nutritional ranges of traditional protein bars. You can get a few more grams of protein with other versions – up to 27g in our top picks, but most clock in around 20g – and while the sugar content is high, it's not as monstrously high as, say, BodyMe's 15.1g.
The protein version of the Bounty is only 51g compared to a regular bar's 57g but because it's full of protein it will fill you up just as well, if not better. It's a pretty solid snack all round, if not as immediately satisfying as the real thing.
This is the third chocolate bar that Mars has made a protein version of, following the Mars and Snickers protein bars released last year. A pack of 18 Bounty Protein bars costs £32.99 (opens in new tab), with 18 Snickers (opens in new tab) or Mars Protein bars (opens in new tab) costing £26.95. You can find all of them on amazon.co.uk (opens in new tab).
Sign up for workout ideas, training advice, reviews of the latest gear and more.