Race-Day Tips To Help You Nail A Scorching RideLondon
Expert nutrition and gear advice to help you stay cool and hydrated in the saddle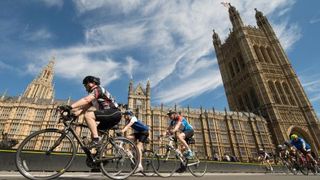 (Image credit: RideLondon)
As those who ran the London Marathon in April will testify, the glorious summer that the UK is currently enjoying stops being a cause for celebration the moment you line up to complete an epic endurance event.
Although the weather is meant to cool slightly in the build-up to RideLondon, it's still set to be a scorcher and since cycling 100 miles takes a bit of time, participants in the event are going to be out in the sun for a long while.
That means some careful planning is required to ensure the heat doesn't ruin your race. To help you plan out the big day in the most sun-savvy manner possible, we spoke to seasoned cyclist and physiotherapist at Pure Sports Medicine (opens in new tab) Bryan McCullough.
How should you adjust your race-day nutrition to help cope with the heat?
Nutrition and hydration are vital so you don't end up "bonking" – running out of energy – or becoming dehydrated, the effects of which can range from affecting performance to being life-threatening.
Ideally you would have a good breakfast two to three hours before your allocated start time. The best options are slow-digesting carbohydrates such as porridge oats, wholemeal toast or a low-sugar granola. I also like to make sure I have some protein and fats in that first meal because they help to slow down digestion and sustain you for a little longer.
Some are better than others at forcing food down first thing so if you struggle it might be better to split your pre-race nutrition up. You could make up a smoothie – my favourite is oats, almond milk, banana, scoop of protein powder, mixed berries – and bring it with you to the start area before you drop your bag off. It's a great idea to start hydrating at this time so aim for about 500ml of water before you start.
During the ride you will need to keep fuelling and hydrating. You should have tested out things like energy bars, flapjacks or gels in training. It helps to know how many grams of carbs are in each gel or bar so you can hit your targets. On average when you are riding this will need to be in the range of 50-75g per hour, depending on your weight, after the first hour or so.
Hydration needs to be matched to your fluid loss through sweat, so the warmer it is, the more carefully you need to watch this. Take regular sips through the ride and aim to be getting through at least one 500ml bottle every hour. In the weather predicted this may need to be closer to 1 litre per hour. I tend to ride with one bottle of water and one bottle with an electrolyte powder in it to minimise salt loss through sweat, which is hugely important on warmer days.
As soon as you are finished have a well deserved and much-needed recovery feed with carbohydrates and some protein. At this point you'll likely be sick of sweet stuff after hours on the bike with bars and gels so I like to go savoury, like a nice slice or two of pizza while you watch the pro riders come through to finish on the Mall.
What gear can help with the heat?
While it looks like we have hot weather in store, it is a very early start for most so it's a good idea to have a warmer jacket or jersey to wear when heading to the start line. You can then dump it in your bag, or if it's some older kit and you're feeling generous there are lots of charity collection bins around the start funnels.
When you start the sun will either be low or non-existent but it will be out later so make sure you have some sun cream on that is resistant to sweat. If you have very pale skin I would put a small bottle of factor 50 in your saddle bag for a top-up.
Should you adjust your target time given the heat?
The heat can make a big difference to your fuelling and hydration, but also your performance levels and capacity. If you have not managed to get a number of training rides in during the warm weather then you may have to peg your pace back from what you had targeted to save from blowing up when you still have 30 miles left.
How can you recover if you do start feeling the heat mid-ride?
If at any point you start to feel dizzy or are struggling to concentrate then it's essential to pull over where it is safe to do so and have a sit-down for a moment, ideally in a shaded area. Take some bars or gels and water on board and you should start to feel things settle down. The most common signs of dehydration to look out for are dry mouth, dizziness, headache, feeling excessively tired, or having no need to urinate or dark yellow urine. It's best not to ride on until you feel better and if you are still feeling unwell you may need to ask for some assistance.
Pure Sports Medicine is set to open its seventh clinic, St Paul's (opens in new tab) in the city, on 6th August
---
Training Advice For RideLondon
Sign up for workout ideas, training advice, reviews of the latest gear and more.