Winter Cycling Tips For Commuters
Tweak your route and layer up to stop the winter weather ruining your ride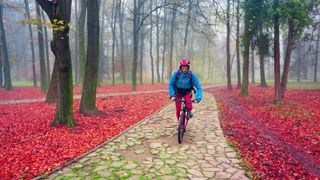 (Image credit: unknown)
If the clocks going back usually marks the moment you pack your bike away until spring, you are not alone – very few of us get excited at the prospect of cycling in the cold and dark. However, with a few manageable changes to your cycling routine you can ride right through the frosty season without being unduly uncomfortable.
For advice on how to keep cycling through winter we spoke to Chris Bennett, head of behaviour change at the sustainable transport charity Sustrans. Here are his top tips.
Consider Your Visibility
Being seen by other road users is of the utmost importance when riding at night and lights should take precedence over any other piece of cycling equipment. In the UK, having one front white light and a rear red, plus reflectors is the legal minimum requirement, so make sure your bike is kitted out. It's also worth carrying a back-up set and spare batteries so you don't find yourself caught out when riding in the dark.
Dawn and dusk are among the most dangerous times to be out and about, so I'd advise turning on your lights even if it's not fully dark. This is because motorists' eyes may not have adjusted to the light and you'll probably be less visible to traffic than you think.
Tweak Your Route
Altering your journey as the seasons change is a good idea. This is because quiet roads that are nice to ride on in fair weather can be more prone to freezing, particularly early in the morning, and cycling around bends can be very difficult if it's icy. In the winter, main roads are more likely to be cleared by cars and treated with salt, so if snow and ice are widespread, consider sticking to these rather than following your usual route.
See related
Assemble A Winter Wardrobe
We all know how unpredictable the British weather is. It can be sunny one minute and torrential rain the next. To prepare yourself for the elements, make sure you check the weather before you set off, and put on waterproofs and warm layers while you're still at home or at the office. This may seem like one thing too many when you're in a hurry but you won't regret it when out on the road.
It's also easy to become sweaty when you're riding your bike, even in winter. Wearing thin layers means you can take clothing on and off easily as required so you don't end up hot and bothered when you arrive at your destination.
Finally, there's nothing worse than frosty toes or wet feet in the morning or after a long day, so I'd recommend a decent pair of socks and waterproof shoes to protect yourself from the cold.
Accessorise Smartly
You don't need masses of equipment beyond a good set of lights and a lock to keep your bike safe, but if you cycle regularly, you might want to consider mudguards to prevent dirty water being sprayed up your back and swapping out thin tyres for wider or knobbly ones. When conditions are really icy you could try studded tyres for extra grip.
Sign up for workout ideas, training advice, reviews of the latest gear and more.