Introducing the Under Armour HealthBox
Cover all the bases with Under Armour's package of fitness tracker, heart rate chest strap and smart scales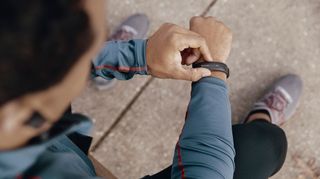 (Image credit: Unknown)
The world of health tech moves fast. Five years ago most people had never even considered strapping a fitness tracker to their wrist and yet nowadays, adorning your forearm with a bracelet that can record every step and statistic of your daily life is just the starting point of your self-monitoring.
There are four pillars of bulletproof health, according to US sports clothing giant Under Armour: sleep, activity, nutrition and fitness. The HealthBox, UA's debut in the activity tracker market (in partnership with mobile tech company HTC), allows you to ensure each of your pillars is in good nick.
The HealthBox bundle is made up of a comfortable, lightweight wrist-worn activity band that can measure your resting heart rate, a chest strap heart rate monitor for workouts and a sleek disc-shaped digital scale that reads your weight and body fat percentage – though not 100% accurately.
This trio sync via Bluetooth to the free UA Record app, a hub that allows you to chart your weight changes, sleep quality, mood, steps taken and calories burned and consumed.
It's a fitness fanatic's dream, but the best thing about UA's software is it's compatible with a multitude of fitness apps you've probably already tried, including Google Fit and Apple's HealthKit as well as UA-owned MapMyRun and the excellent MyFitnessPal. It means all your fitness gadgets can work together to deliver on their overall premise: to get you fitter. Makes sense to us.
UA Heart Rate
Even the best wrist pulse monitors pale in comparison to the accuracy you get from the UA Heart Rate chest strap, which measures your heart rate to assess your effort level during workouts, and then beams that information live to your band.
UA band
All-day tracking comes via the water-resistant UA Band, which keeps tabs on sleep, steps, heart rate and workouts, and boasts a five-day battery life. It will also remind you to keep moving throughout the day, and provides calls, texts and calendar notifications.
RECOMMENDED: The Best Fitness Trackers
UA scale
With its sleek, black design, the UA Scale looks like a stealth bomber, which is neat if you're into that kind of thing. As well as your weight, the scales will tell you your body fat percentage so you can keep a close eye on the effects of your training. Share it with health-conscious friends or family members – the scale recognises up to eight people automatically.
RECOMMENDED: The Five Best Smart Scales To Track Your Body Composition
UA Record App
Tying all these mechanical marvels together is the UA Record app. Along with the various pieces of kit in the HealthBox, UA Record also grabs data from other apps like MyFitnessPal to give a complete picture of your fitness and relays your data to tech platform IBM Watson, which provides regular insights on how your stats compare with the average in your age group. Like an on-board GP cajoling you to up your game.
Later this year the kit will sync with UA's new GPS-connected trainers, the Speedform Gemini 2, as well as UA's in-ear HRM earphones, to give you an even clearer picture of your health. AI-fused compression pants can't be far away.
The UA HealthBox is a perfect one-stop shop for anyone who wants to know as much as possible about their health and exercise. The UA Record app is slick and useful, collating everything from your sleep and run mileage to calorie intake and challenges with friends.
It's a hefty investment, and if you already have a tracker or similar scales buying a full package will be less appealing. However, having all the gear in sync all through the excellent UA Record is undeniably useful, especially as it also grabs info from popular fitness apps like MyFitnessPal and MapMyFitness.
£349, buy on underarmour.co.uk
Sign up for workout ideas, training advice, reviews of the latest gear and more.
Sam Rider is an experienced freelance journalist, specialising in health, fitness and wellness. For over a decade he's reported on Olympic Games, CrossFit Games and World Cups, and quizzed luminaries of elite sport, nutrition and strength and conditioning. Sam is also a REPS level 3 qualified personal trainer, online coach and founder of Your Daily Fix. Sam is also Coach's designated reviewer of massage guns and fitness mirrors.