It's Official*: These Are The Five Most Effective Exercises Ever
*As voted for by 1,400 personal trainers, so it's as official as it gets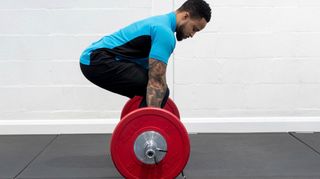 (Image credit: Unknown)
It's important to get value from each and every workout you undertake. If you spend an hour faffing around at the gym, wandering between machines and weights stands doing little actual exercise, you're unlikely to see many positive results.
To ensure your workouts are effective, it's always helpful to get the advice of a personal trainer. Even better is to get 1,400 of them together for a survey that reveals the five most effective exercises of all time, as UK budget gym chain The Gym Group did.
So, drumroll please… In no particular order, these are the five most effective exercises for a full-body workout.
"Forget the cardio – if you are looking to burn fat, get squatting," says Allyn Condon, a former Olympian who's now general manager at The Gym Bristol, and who are we to disagree? This exercise is especially good for your legs and core.
RECOMMENDED: Try The 30-Day Squat Challenge To Shed Fat And Build Functional Muscle
"Another great exercise for burning body fat and improving overall strength and conditioning," says Condon, who competed at both the Summer (4x100m relay) and Winter (bobsleigh) Olympics. There's versatility for you.
"The lunge offers great functional movement and can be completed in multiple directions to hit those hard-to-target muscles," says Condon. "It's a great exercise for sports enthusiasts looking to add a little extra bite to their game."
An all-time classic of the exercise genre. The Godfather of bodyweight exercises. Or as Condon puts it, "the best of the best to develop your chest".
RECOMMENDED: Try The 30-Day Press-Up Challenge
"A must for anyone training, whether beginner or advanced," says Condon. "Change it up by alternating between dumbbells, resistance machine and barbell to maximise the benefits."
Put all five of these exercises together and you've got a workout that's guaranteed to do the business. After all, 1,400 personal trainers can't be wrong. And if cardio machines are more your bag, the survey recommends hitting the rowing machine, with 47% of the trainers putting it at number one, ahead of the the treadmill (25%), cross-trainer (12%), stepper (8%) and bike (2%).
Sign up for workout ideas, training advice, reviews of the latest gear and more.