The Best Audiobooks For Running
Immerse yourself in one of these excellent audiobooks and the miles will fly by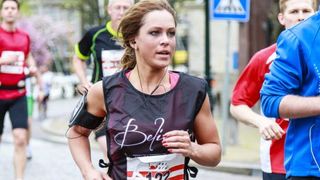 (Image credit: Unknown)
Many long-distance runners will spend hours agonising over which songs to put into the perfect playlist to soundtrack their long training sessions, but what if the perfect playlist contained just one item? Having trained for and run six marathons, with another on the horizon, we have almost entirely switched from music to podcasts and audiobooks for our long runs, and we reckon you should too.
A good book will capture your interest better than even the most motivational music, and that distraction will mean the miles tick by quicker than you could have thought possible. Here are some of our favourites.
---
I, Partridge: We Need to Talk About Alan
You will get odd looks from passersby when you suddenly crack up while running, but rest assured frequent laughter won't derail your training. Steve Coogan's Partridge autobiography is our go-to for marathon training and race day itself: it's just about the most entertaining book ever written – and it's only improved by Coogan reading it in character.
Buy from Audible | £9.99
---
If you want to stay on topic with your audiobook material, then check out Adharanand Finn's excellent account of a year living and training in Kenya with some of the best runners in the world. The book is full of interesting titbits you might want to apply to your own training, and is also just a well-told story of Finn's life in Kenya and the build-up to his first marathon.
Buy from Audible | £15.69
---
Having tried to listen to several weighty literary masterpieces while running, we can tell you that – as impressive as they may be – it's quite hard to keep track of what's going on. So now we stick to lighter fare, and you can't go wrong with a Jack Reacher thriller. Especially if you've already read any other Reacher books, because let's be honest, they don't differ much. Lee Child's novels are always highly entertaining though and listening to Reacher beat the heck out of some deserving chumps is just as motivational as your favourite song. Blue Moon is the newest Reacher novel, and the most expensive too, so if you're new to the series opting for an earlier, cheaper book is a savvy move.
Buy from Audible | £31.99
See related
Think of all the time you're going to spend running during marathon training. If you devoted that much time to learning stuff, you'd be a lot smarter, right? Non-fiction is a smart choice for anyone making the switch from podcasts to audiobooks, but you have to be careful to avoid anything too heavy that will be hard to follow on the run. Stephen Fry's Mythos is perfect, providing a detailed look at famous Greek myths that you may already be somewhat aware of, delivered by Fry himself in engaging fashion.
Buy from Audible | £23.99
Comedian Paul Tonkinson is familiar to many runners as one of the hosts of the Running Commentary podcast alongside fellow running funnyman Rob Deering. In this book he details his full history with the marathon. It's entertaining and inspiring, and will keep you hyped for your race day during the long days of training.
Buy from Audible | £14.99
Sign up for workout ideas, training advice, reviews of the latest gear and more.