Ant Middleton's Mindset Advice Will Get You Through Training For The London Marathon
Take these tips from a man who regularly pushes past his limits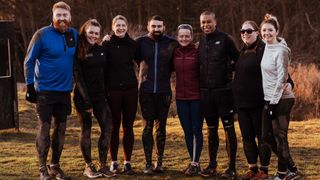 (Image credit: Unknown)
Training for and completing a marathon takes mental strength as well as physical fitness, and if you neglect the former you might come unstuck no matter how much time you put into improving the latter.
"You can't just get through on mindset, you need to be fit, and you can't just get through on fitness, because if your mind gives up the body will follow," says Ant Middleton, the former SBS man turned adventurer, author and TV personality.
"You must be more mentally prepared than you are physically prepared. People have that the other way round. The moment they get mentally challenged I've seen the fittest people melt down and quit."
Middleton's new Audible Original Podcast, Mind Over Muscle, follows several runners training for the London Marathon and looks at how the right mindset can help, as well as the benefits that training for the event can have on their mental health.
"It [the podcast] was originally designed to get people in the right frame of mind to get them to the start line of the London Marathon. A lot of people sign up to the London Marathon, then they get the form saying they've been accepted, and something like 30% of applicants don't make it to the start line.
"It's to get them into the mindset of sticking to a regime, a training programme, and getting to the start line. That's the hardest bit of a marathon. If you've prepared correctly and you're in the right mindset, then the race is just a few hours of staying in the zone. It's the build-up that's really important."
To help ensure you make it to the start line of your marathon armed with the right mindset, we asked Middleton for some tips.
Break training down into smaller chunks
Instead of thinking about everything you have to do before a marathon in one go, break your training down into small parts, and then break them down again.
"Once you've got it down to bite-size chunks, then all you do is commit to the next chunk, the next small commitment," says Middleton. "Once you commit to one, you find it isn't that bad, then you commit again – rather than having one full commitment to a whole training programme and the marathon itself, which is overwhelming."
Appreciate what you've achieved as you go
Training for a marathon requires a lot of discipline and commitment. It's important to recognise that in yourself, and be proud of every early start, and every hard run logged.
"Once you get into that zone of getting up at 5am before you go to work, you think 'I never knew I was capable of that'," says Middleton. "Once people have done that training, they use that after the marathon. They realise they're disciplined, that they can do it. It gives them a new lease of life to attack another thing."
Stop thinking and do
This is a crucial tip for the moments before a run, when you're starting to talk yourself out of doing it.
"When people start overthinking it, I stop them! Just stop thinking, and do," says Middleton. "If you don't want to go out for a run, stop thinking, put your socks on, that's a little commitment. Then put your trainers on. Open that door. Then shut that door and go. By the time you start thinking about it, you're on the road anyway. You know what you've got to do, you go into autopilot. All you're going to do is talk yourself out of it, so replace your thought process with action."
See related
Remember your good days, forget the bad
"I think it's important to record when you've had a good day and I wouldn't record when you've had a bad day," says Middleton. "We all have them, but why do you need to bring that up? You're going to have more negatives if you think negatively. I haven't tapped into a new part of my mind, I just think differently. I turn negatives into positives, and if I can't, I cut them away. I don't entertain them."
Be realistic
Embracing a positive mindset can be hugely important in marathon training, but it's not going to turn you into an elite runner overnight. You need to keep working hard and base your targets on your capabilities.
"Be honest with yourself," says Middleton. "Don't expect miracles. Often you see on social media the before and after, and you don't see the hard work, the discipline, the structure that goes into it. Break it down to your capabilities and your timescales. Everyone should be different."
Listen to Mind Over Muscle: Journey to The Finish Line | £19.99 or subscribe to Audible for £7.99 a month. Free 30-day trial available
Sign up for workout ideas, training advice, reviews of the latest gear and more.