Use These Running Playlists To Soundtrack Your London Marathon
Power through your marathon with this musical motivation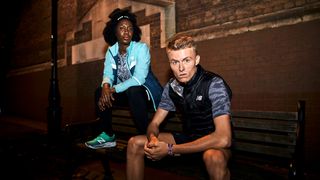 (Image credit: Unknown)
Pictured: Matilda and Lloyd. Photograph: Paul Ward – Stink Films
There's a good argument for not listening to anything while running the London Marathon. There are no parts of the course where supporters don't line the streets and the noise of the cheering can motivate you to keep on keeping on, especially if you've got your name on the front of your vest so people can shout it.
However, we've run the London Marathon twice and are tackling it again this year, and we will be taking headphones for the third year in a row. That's because, although the support is brilliant, running a marathon takes a long time and even well-intentioned cheering can start to grate after a while – especially if you're having a tough race.
Another reason to consider headphones is that the crowd can actually knock you off your race plan, especially if you're spurred on by the crowd in the first few kilometres and go off too fast.
So having a playlist lined up is a great strategy, and New Balance and Runners Need have even done the heavy lifting for you in creating four playlists on Spotify that you can use on race day.
The playlists come from New Balance ambassadors Leon, Lloyd, Matilda and Matt, who are all running the London Marathon themselves. Each has been designed to fit a different pace, ranging from six minutes per mile up to nine minutes per mile, but we don't think you have to hold to that idea – just pick the one that suits your music preferences best. Or use all of them – each playlist is 20 songs long, so one won't last you the entire marathon, but you may also want to spend some time without headphones to take in the crowd at times anyway.
Lloyd's Running Playlist
Notionally for those running a six-minute mile pace (which is really very quick), this playlist from student athlete Lloyd is heavy on indie classics, including "I Am The Resurrection" by the Stone Roses, which would be a hell of a soundtrack to have as you finish on the Mall.
Leon's Running Playlist
This playlist is designed for seven-minute milers (which is still very quick) and comes from Leon, who works on Savile Row. There's a strong mix of genres, with The Doors' "Break On Through (To The Other Side)" on there which will hopefully come on just as you're hitting a sticky patch.
See related
Matt's Running Playlist
Matt is a London Marathon veteran, and the 2019 race will be his third year in a row at the event. His playlist is designed for eight minutes per mile pace and has the perfect one-two punch to get your race going – "This Is The One" by the Stone Roses and "Right Here, Right Now" by Fatboy Slim.
Matilda's Running Playlist
Matilda founded a group called Fly Girl Collective to encourage more BAME women to get into fitness, and she's leading by example by taking on the London Marathon. Her playlist is designed for nine minutes per mile pace and she has smartly included not one, but two, London-repping tracks – "London Town" and "It's A London Thing".
Sign up for workout ideas, training advice, the latest gear and more.