Everyone Should Do GOSH's Running Off Christmas Fundraising Challenge
The event, which raises money for Great Ormond Street Hospital Children's Charity, involves running 31 miles in January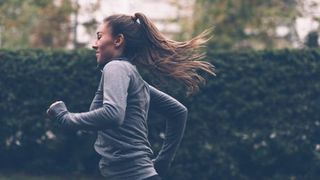 (Image credit: Unknown)
Here are two big reasons that many people struggle to maintain their motivation for a New Year's fitness resolution: they don't set themselves an achievable, tangible goal, as opposed to something woolly like "get fitter"; and they go too hard at the start of January and overdo it, resulting in verve-sapping levels of fatigue and maybe even injury.
That's why we think this January running challenge from the Great Ormond Street Hospital Children's Charity (GOSH) is so good. To complete Running Off Christmas you have to log 31 miles (50km) across January. You can split this distance over however many runs you want, whether it's a mile every day or ten 5Ks across the month. We'd recommend not going for it in one go, though, and don't leave yourself a marathon or more to tackle on the 31st.
It's an achievable goal for practically anyone, regardless of your fitness level on New Year's Day, and it encourages you to spread out your exercise across the month. That means come February you'll be accustomed to exercising regularly and flushed with success after hitting your target, which can only help you maintain regular exercise for the rest of the year.
You can sign up to the Running Off Christmas challenge now on the GOSH website. It's free to enter and there's no specific fundraising goal – just do what you can to get your friends and family to donate to this worthy cause.
See related
If you'd rather have a non-distance-based target, another good running goal to start the year comes from Great Run, with its January Accumulator Challenge that asks you to run, walk or jog 21 times throughout the month. Any distance is fine – it's all about getting out there 21 times.
You might also not fancy running at all, in which case consider the RED January challenge, which benefits mental health charity MIND. This involves exercising every day in January, but that exercise can be anything, so you can either hit your preferred activity hard or try 31 new ones to see if you find a new favourite.
Once you've hit your goal, go ahead and set yourself a new target to keep yourself motivated – whether that's another running event, a cycling event, a charity challenge or a 30-day exercise challenge.
Sign up for workout ideas, training advice, reviews of the latest gear and more.