The Best Fitness Tracker Deals: Cyber Monday 2021 Has Arrived
We hunt down sales and discounts on Fitbit, Garmin, Polar, Huawei and other activity trackers so you can bag yourself a bargain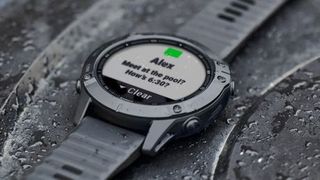 (Image credit: unknown)
Coach loves fitness trackers. They're a great way to keep tabs on your activity, overall fitness, diet and sleep. Nowadays, with ever-improving heart rate monitors you can use heart rate zones to guide your training, while built-in GPS means you can keep tabs on your pace while running or cycling. The only problem is they can be eye-wateringly expensive.
Luckily for you, deals abound. We'll keep this page updated with the very best fitness tracker deals – and more often during traditional sales periods like the new year, Black Friday, Cyber Monday and Amazon Prime Day – so do check back in from time to time.
Well done for checking at this moment because the Black Friday/Cyber Monday sales period is upon us. The day itself was on 26th November but deals are still available now on Cyber Monday. Many brands launch trackers ahead of the Christmas period and discount the previous generation over Cyber Week – we'd expect serious deals on the Fitbit Charge 4 and Apple Watch Series 6. The good news is that the latest trackers tend to have minor improvements rather than revolutionary new features, so you're not missing out terribly by bagging yourself a deal on the older product.
We will endeavour to be as comprehensive as possible here, but if you want to browse deals on the best of the best, we'll highlight discounts on the devices we recommend year round in our best fitness trackers round-up.
A word on the size of discount we list. Wherever possible we'll work out the reduction using the RRP from the manufacturer, because often the normal price used by third-party retailers can be inflated or, indeed, deflated.
The Best Deals On Fitness Trackers
Fitbit Charge 4
Save 31%, Now £89.99
The Charge 4 is a tracker ripe for big discounts this Cyber Week. With the recent release of the Charge 5, Amazon has already slashed £40 off the price of the older band in its early sale. The Charge 5 does sport a colour screen and improved design, along with new features like electrocardiogram (ECG) measurements, but the Charge 4 is still a great all-round tracker with built-in GPS, and far cheaper than the 5, which has an RRP of £169.99.
Buy on Amazon | £89.99 (RRP £129.99)
---
Garmin Fenix 6 Pro
Save 35%, Now £389
We were hoping to see the Fenix 6 Pro drop below £400 this Cyber Week so we're delighted to see Amazon has gone down to £389 for Cyber Monday. That's a phenomenal price for the best all-singing, all-dancing sports watch money can buy. The Fenix 6 Pro has music storage, full-colour maps, incredible sports tracking and training analysis, as well as added smarts like weather and NFC payments packed into its rugged frame.
Buy on Amazon | £389 (Garmin RRP £599.99) | Garmin Fenix 6 Pro review
See related
Withings ScanWatch
Save 30%, Now £174.97
The ScanWatch is a tremendous health and activity tracker that stands out as the best option available if you want a hybrid tracker that looks like an analogue watch. It has a gorgeous design with the only sign of its smarts being the small round screen on the watch face that shows you your activity stats. The ScanWatch can take ECG and blood oxygen saturation measurements, monitors your sleep and tracks your heart rate 24/7. The ScanWatch sometimes drops below £200, but we can't remember seeing it as cheap as £175 before, so this is a fantastic deal.
Buy from Amazon | £174.97 (RRP £249.95)
---
Fitbit Inspire 2
Save 36%, Now £57.99
The Inspire is the cheapest route into Fitbit's line-up of trackers, but don't let its low price fool you into thinking its a subpar device. It's still an excellent activity and sleep tracker, and its slim, stylish design makes it comfortable to wear 24/7. The Inspire 2 also comes with a one-year subscription to Fitbit Premium, unlocking more analysis of your sleep and activity as well as guided workouts and training programmes.
Buy on Amazon | £57.99 (RRP £89.99)
---
Garmin Forerunner 45
Save 38%, Now £99.99
The Forerunner 45 lacks a few handy features that are on the newer 55, such as Garmin's Track Run mode, plus recovery advice and race predictions, but it's still a terrific running watch. The best deal on the 45 we've seen so far this Cyber Monday sees it reduced to £100 at Amazon.
Buy on Amazon | £99.99 (RRP £159.99)
---
Fitbit Sense
Save 37%, Now £189
Fitbit's top smartwatch has had a third knocked off its price in the Amazon Cyber Monday sale, bringing it down to £189. Alongside the usual excellent activity and sleep tracking you get from Fitbit, the Sense introduced advanced features like ECG and EDA measurements and skin temperature tracking to the company's range. It also has a bright AMOLED screen and built-in GPS for accurate outdoor exercise tracking.
Buy on Amazon | £189 (RRP £299.99)
---
Samsung Galaxy Watch4 44mm
Save 21%, Now £211
We were delighted and a little surprised to find the latest version of the Samsung Galaxy Watch reduced in Amazon's Cyber Monday sale, with discounts on both the standard Watch4 and the Classic version. There are different sizes available and the cheapest option overall is the standard 40mm Watch4 at £199. The Watch4 is a comprehensive health, sport and activity tracker and one of the best smartwatches on the market to boot.
Buy on Amazon | £211 (RRP £269)
---
Huawei Band 4
Save Save 37%, Now £19
Is the Huawei Band 4 the most impressive fitness tracker available? No. Is it an outrageous bargain at £19? Absolutely. The band can track your heart rate, has nine sports modes, a 0.96in colour touchscreen and lasts a week on one charge. If you're looking for basic tracker to log your daily activity, exercise and sleep, it's a steal.
Buy on Amazon | £19 (RRP £29.99)
---
Fitbit Versa 2
Save 34%, Now £99
The Versa 2 is Fitbit's entry-level smartwatch and lacks many features that you'll find on both the pricier Versa 3 and cheaper bands like the Charge 5, including built-in GPS and Active Zone Minutes. It's still an attractive watch with good activity, sports and sleep tracking, and if you can live without the latest features, picking up the Versa 2 for under £100 in Amazon's Cyber Monday sale is worth considering.
Buy on Amazon | £99 (RRP £149.99)
---
Fitbit Versa 3
Save 30%, Now £139
The Versa 3 is a significant upgrade on the 2 purely because of the addition of GPS, which makes it far more accurate when it comes to tracking outdoor runs and cycles. The Versa 3 is an excellent everyday activity and sleep tracker too, lasting up to six days on a single charge.
Buy on Amazon | £139 (RRP £199.99)
---
Huawei Watch GT 2e
Save 60%, Now £64
The GT 2e provides a good balance of smart and sports features to offer something a little different to runners. It has a bright AMOLED touchscreen and can store music (Android users only), offers guided workouts and training plans to runners, and gives insights into your training using the same Firstbeat analytics used in Garmin devices. It's not that smart, lacking apps since it doesn't work with the Google Play store, and it isn't as detailed when it comes to run tracking as a dedicated sports watch, but it does offer a nice set of features at an excellent price.
Pay no mind to Huawei's RRP – it's always discounted – but getting the GT 2e for £64 is still a great deal. It's also the same price on the Huawei website.
Buy on Amazon | £64.99 (Huawei RRP £159.99) | Huawei Watch GT 2e review
---
Garmin Venu
Save 33%, Now £219.99
Keen recreational athletes who want some smart features are arguably best to go with something like the Venu over a true smartwatch from the likes of Apple or Samsung, simply because Garmin's sports tracking is so much better, even if you sacrifice a full app store. The Venu does have some handy smart features though, with music storage and the ability to connect to streaming services including Spotify, and NFC payments through Garmin Pay. It also has the nicest screen of any Garmin, with a bright AMOLED touchscreen that helps it rival any smartwatch for looks. While Garmin has launched the Venu 2 this year, the Venu is currently going for a song on Amazon, and it's such a big saving that makes it worth considering over the newer watch, which has a bigger screen.
Buy from Garmin | £219.99 (Garmin RRP £329.99) | Garmin Venu review
---
Huawei Watch Fit
Save 31%, Now £54.99
The Watch Fit has an attractive design that sits somewhere between a watch and a fitness tracker, with a bright 1.64in (42mm) AMOLED display. It's waterproof, tracks your heart rate 24/7, offers impressive sport and activity tracking, and includes Hauwei's best-in-the-business sleep analysis. The Watch Fit is always great value at its £80 RRP, but it's even more tempting at £55 in Huawei's Cyber Monday sale.
Buy from Huawei | £54.99 (RRP £79.99)
---
Suunto 7
Save 47%, Now £229
Google smartwatches tend to be pretty basic when it comes to sports tracking. Fitness smartwatches from traditional sports tracking brands tend to be pretty basic when it comes to smart functions. On this device Google handles the operating system and smartwatch features, while Suunto lends its tracking chops. It doesn't match up to a dedicated Suunto tracker, but it's streaks ahead of every other Wear OS option. It's our pick from the Suunto range too, but if you want to see your options, browse Suunto's spring sale.
Buy from Suunto | £229 (Suunto RRP £429) | Suunto 7 review
---
Honor Watch GS Pro
Now £119
The GS Pro is an outdoorsy sports watch with a rugged design and 40 hours of GPS battery life. It has some software problems and smart features like music are only available to Android users, but it offers a much cheaper alternative to the likes of Polar's Grit X or the Garmin Fenix 6 outdoor watches.
Buy on Amazon | £120 (No RRP, discontinued)