Helpful Reminder: It Is OK To Miss A Run On Your Training Plan
Skipping runs when it's 40°C is just common sense and there's no need to panic about missing workouts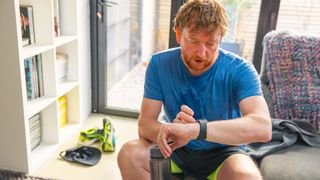 (Image credit: Getty Images / Justin Paget)
When you really get your teeth into a running training plan it can become an all-encompassing pursuit. Completing every run on the plan becomes an obsession and you start planning your week around them to ensure you can fit them in.
I know this because that's exactly how I am, and have been for several years. I have run eight marathons and have a coach setting a training plan each week. At the moment I'm in the middle of my training block for the Berlin Marathon in September. I do not like missing runs.
That means when life throws me a curveball like 40°C heat (in the UK?!) and I have to change my training plans, I get nervous. Given that the climate emergency means we're more likely to experience these events, it's good to have an idea of how to deal with them as runners.
In my case, my plans changed to doing easy runs only during the hottest two days of this heatwave, and I will be doing those runs early in the morning in the shade of a local forest, where it feels several degrees cooler than on the road in direct sunlight.
For others who don't have the chance to run early (or very late, once the sun is down) and under tree cover, it might mean skipping your run entirely. This might feel like a wrench given your commitment to a plan, but actually will do absolutely zero damage to your fitness.
Don't believe us? We checked with Martin Yelling, official coach of the London Marathon. "Missing a run or two due to the heat is just fine," says Yelling. "It won't impact your fitness."
One of the most important parts of marathon training is recovering between runs and giving your body time to adapt to the work you're doing, so skipping a run or two in the heat just gives it more time to do that. Also, running in heat that's absurdly different from what you're used to can be overwhelming. You can end up logging a horrible run you don't enjoy that does more damage than good, takes longer to recover from, dents your confidence and diminishes your motivation.
If you are going to run in the heat, there are a few golden rules to follow. "Run early in the day before the sun is high in the sky," says Yelling. "Stick to the shade. Slow down and control your pace. Be hydrated before you head out. Wear a cap, sunglasses and sunscreen. And finally shorten your run time. All of the above will help regulate and control a hot body!"
---
Summer Running Essentials
Sign up for workout ideas, training advice, reviews of the latest gear and more.