How To Master Meal Prep
Because proper preparation is one of the cornerstones of a healthy diet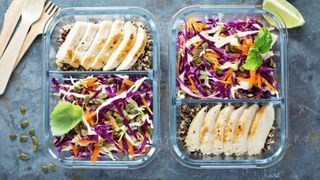 (Image credit: Unknown)
If the first time you think about what you're going to eat for dinner is when you step in the door after work, the odds of making a healthy choice are not in your favour. When a ready meal or a takeaway is the fastest and easiest option available, then that's the option you'll probably take.
Fortunately there is a better way, and it's not one that involves cooking from scratch each and every night. Prepping several meals in advance each week puts you on the fast track to a healthy diet, because eating those meals then becomes as easy as a ready meal, quicker than a takeaway, and healthier and cheaper than both.
New to meal prep? Here's how to get started.
Map Out Your Week
Before you lift a spatula in anger, it's worth checking your schedule to see how many nights there are when you might be a tight spot come dinnertime. You could have more free evenings for cooking than you think, and there's no point prepping a vast array of meals only to never eat them. At this point you'll also need to decide if you're only prepping dinners, or if you want lunches too. Once you have a rough number of meals in mind, it's time to hit the kitchen.
Block Book A Regular Weekend Slot
Sunday is primetime for meal prep. That's when most of us have more dead time and if you've mastered the basics in the kitchen you can easily cook enough on Sunday for the week. Cook all the meat medium-rare, so when you heat it up in the microwave it will taste good without being dry or rubbery. Roast a whole tray of vegetables – sweet potatoes, squash and broccoli are all good candidates – and then divide them into sealable bags. Leave enough in the fridge for Monday and Tuesday, and place the rest in the freezer. Each day, move a portion into the fridge so it's ready for the next day.
Consider Your Menu
Some meals taste better after a few days in the fridge, but others will dry out and lose all flavour by the time it comes to eating them. As a general rule, sauce-heavy dishes like curries, chilis, soups and stews are a good option for meal prep, because they become more and more delicious with each day in the fridge. Up to a point, of course. And speaking of which…
Don't Leave The Food Sitting Around For Too Long
It only takes one bout of food poisoning to really put you off ever eating leftovers again, so be sensible. Get the food in the fridge quickly after cooking – within two hours – and as a general rule eat it within two days. You can always turn to the freezer for longer-term storage, but make sure you store the correct portion size because you should avoid reheating frozen food more than once.
Stock Up On Storage Solutions
Treat yourself to a range of variously sized and shaped containers to ensure you have what you need to allocate portions and even divide up food within one container if you don't want it getting mixed up. The most convenient containers will be safe for the microwave, freezer and dishwasher. And leak-proof, obviously.
Meal Prep Recipes
We have plenty of great, healthy recipes here on Coach, and many of them are so quick and easy you can pick up the ingredients on your way home from work and have them cooked and on the table in less time than you need for a takeaway delivery. But we also have plenty of curries, stews and chillis that will do you a lunch later in the week and fill up your freezer, ready to be whipped out and enjoyed at any time (providing you have a microwave). Here are four of our top picks for batch-cooking on a lazy Sunday.
Tom Kerridge's Malaysian-Style Beef Curry Recipe
Taken from the Michelin-starred chef's Lose Weight & Get Fit book, this curry will take about 1½ hours to make. It packs in 66g of protein in each serving, making for an ideal post-workout meal, especially since it features complex carbohydrates in the form of brown rice (don't make that part ahead of time). See the recipe
Roasted Butternut Squash Tagine
You'll need a slow cooker for this, but if you're serious about meal prep, a slow cooker is one kitchen gadget worth investing in. This recipe is one of three shared from Masterchef finalist Dean Edwards's book Cook Slow. Apart from peeling and dicing (we hope you have a sharp chef's knife) and the optional roasting of the squash, this takes minimal effort to throw together. Six hours later you'll have a rich, hearty and very healthy dinner. See the recipe
Chilli Con Carne
It always tastes better reheated, but you won't be able to resist a portion of chef Adam Gray's chilli right away. The ingredients are easy to find and the recipe is straightforward and effective, but remember to double or even triple it – the quantities listed serve two. See the recipe
Chilli Con Veggie
You don't have to be a committed vegetarian to add a veggie version of chilli to your culinary repertoire, especially when the version in question is full of such flavourful, nourishing goodness. The recipe from chef Bruno Loubet throws the kitchen cupboard at the pan, but the recipe serves eight so your efforts will be well rewarded with a freezer full of Meat-Free Monday dinners you can look forward to. See the recipe
See related
Next-Level Meal Prep Tips
Once you've familiarised yourself with the basics, here's how to become a master prepper.
Turn One Grain Bowl Into Five Lunches
Chef Charity Morgan, who prepares vegan meal plans for 15 NFL players, offers this killer tip. Cook two types of grains, roast a batch of vegetables, then prepare some fresh veg too. Mix and match those ingredients to create a different combination for each day, but to make sure you're not stuck with the same flavours, Morgan recommends preparing five different sauces, as she did for her husband, Tennessee Titans quarterback Derrick. "One day was a balsamic vinaigrette, day two had a chimichurri, day three had a Thai peanut sauce, day four was a tahini garlic dressing and day five was a buffalo vinaigrette," Morgan says.
Swerve Soggy Veg
A standard combo, especially for dedicated gym-goers, is chicken breast, brown rice and veg, but it's easily ruined if you overcook the veg. To avoid this, use a simple culinary technique all professional kitchens use but few amateurs cooks know – blanching. Chef Jonny Marsh, who's served bespoke meal plans for elite footballers like Paul Pogba, Kevin de Bruyne and İlkay Gündoğan, turned us on to the method.
"When you cook veg, take it out when it's half cooked and plunge it straight into ice-cold water – ice cubes and really cold water – which is called refreshing," says Marsh. "Blanching traps all the nutrients, keeps all the colour, and when it comes to heating up you can either drop it in a bit of hot water or heat it up in the microwave – done."
Sign up for workout ideas, training advice, reviews of the latest gear and more.