How To Get Fit At Home
Don't let the absence of an active gym membership prevent you from getting fitter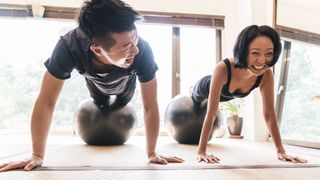 (Image credit: Shutterstock)
While we're big fans of a dedicated space that has all the latest fitness gear and experts on hand, no-one actually needs a gym to get in great shape. With the right approach you can achieve just as much at home, and what the right approach is will depend on you and how you like to exercise.
That's because there are plenty of ways to get fit at home. If you have the budget you can replicate the experience of a gym by investing in free weights or cardio machines like one of the best treadmills or best exercise bikes, or if you want to save some cash you can keep yourself in shape using nothing but bodyweight exercises.
If you're someone who prefers to take classes at the gym or a studio – whether that's for guidance or motivation – you can also choose from an array of home fitness apps, and the best workout apps now offer both on-demand and live video workouts. There's been an increase in the range of these online tools recently, in part because so many of us have been stuck at home for so long, and many offer free trials so you can flit between them without spending a penny until you find one you like.
We've got all the advice you need to help you nail your at-home training whatever your favoured approach is, so let's dive in, starting with a simple home workout format.
Home Workout Ideas
A fitness routine doesn't have to be complicated. In fact, keeping it simple makes doing it consistently much easier – and that consistency is what will make a difference to your fitness. Take this straightforward session from PT Adam Jones. "A favourite of mine is to work in a 30:30 format," says Jones, "which means 30 seconds of work with 30 seconds of rest on each exercise for a set amount of rounds.
"A good circuit would be bodyweight squats, reverse lunges, press-ups, burpees and mountain climbers. Perform the squats for 30 seconds, rest for 30 seconds, then move on to the lunges and continue like that. When you've done that for all five exercises, rest for one to two minutes, then go again. Complete the circuit four to six times in total."
Don't be deterred if at first you find some of the exercises too difficult to do for the full 30 seconds. "If you find press-ups difficult, you can place your hands on a chair," says Jones. "If you struggle with a normal unweighted squat, you can try squatting onto a chair – it shortens the range of motion, which helps you maintain correct technique throughout."
If you want to up the challenge when doing press-ups, "try placing your feet on a chair," says Jones. "With the incline you'll target different areas and place more emphasis on your upper chest and shoulders." And there are plenty of ways to make squats more challenging, including jump squats or single-leg squats.
And there's another way to make almost any exercise fiendishly difficult. "Tempo – the speed at which you perform a move – is probably one of the most overlooked elements of training," says Jones. "Focusing on it can ramp up your results massively. Taking longer to perform a move increases tension in the muscle, forcing it to work harder, which in turn will increase stress and lead to muscle gain. When performing press-ups, try taking four seconds in the lowering phase, and add a slight pause at the bottom of the move." To find out more, read our guide to tempo training.
Home Workout Plans
Whether you work out at the gym or at home, having a plan to follow can make all the difference, in most part because it takes a lot of the decision-making – and therefore opportunities to procrastinate – out of your hands. Here are three options to get you started.
Goal: Get fit with no kit This plan contains three workouts you can do each week to build full-body strength. The workouts are made up of bodyweight moves so you can do them anywhere you have space in your house without needing any equipment. See the home workout plan
Goal: Start strength training Fitness instructor Ruth Stone created this plan to help women start strength training. The workouts are 25-30 minutes long and ideally you'll have a set of dumbbells for them. Strength training is obviously great for everyone, but it can be particularly invaluable for women during the during the menopause when hormones affect bone density. See the home strength training plan
Goal: Lose weight The inimitable Joe Wicks shared this plan, which is four sessions a week for four weeks. You don't need any equipment to do these 20-minute high-intensity circuits, although give yourself at least five minutes either side to warm up and down and catch your breath. See the fat loss workout plan
Goal: Get strong If you have (or don't mind investing in) a set of dumbbells, use this four-week plan to build strength and power throughout your entire body. The three workouts are intended to be done on Monday, Wednesday and Friday so you have the weekend free to recover. Now you've got the plan, use our round-up of the best dumbbells to get the weights. See the dumbbell workout plan
Goal: Build muscle This is a muscle-building workout plan with a difference – it uses just your bodyweight to stimulate muscle growth. That means there are some tricky moves in here so beginners should start elsewhere or substitute in easier variations. You'll need to set aside three one-hour slots a week and find yourself a pull-up bar and a bench (or any sturdy platform). See the bodyweight workout plan
Home Gym Equipment
If you like to work out with weights or use your gym's cardio machines, but are tired of travelling to and from the gym every time you want a workout or having to wait your turn when you're there, investing in some equipment of your own can solve both problems in one fell swoop.
Free weights are a great place to start, because you can get a set of dumbbells or one of the best kettlebells pretty cheaply and they won't take up much space at home when not in use.
A pull-up bar is another useful bit of home equipment and many don't need permanently fixing to a wall and it can be used for more than just pull-ups. Find the right one for your set-up in our best pull-up bars round-up.
The best resistance bands are also a very cheap and versatile bit of kit that allow you to train anywhere, while the best suspension trainers can really take your home strength sessions to the next level.
Finally, those who are ready to throw a little more cash at their home workouts might want to consider picking up a multi-gym, though you will need a fair chunk of free space for it.
If cardio is more your bag then you are spoilt for choice when it comes to home machines. Treadmills are usually the first thing that spring to mind, but they take up a lot of space and tend to be pricier than other cardio machines. Exercise bikes have the smallest footprint and are the cheapest pick, while cross-trainers and rowing machines have the advantage of working both your upper and lower body in addition to raising your heart rate.
Home Workout Apps
We're pretty certain you'll find a home workout to suit you somewhere on Coach, but if you prefer to follow video instructions then a workout app might be the way to go. Most of these will allow you to select workouts that suit your fitness level and allow you to use whatever equipment you have to hand. Each will guide you through one-off sessions or longer training plans to whip you into shape.
Fiit – One of our favourite premium apps, Fiit has video workouts in different categories like strength, cardio, and yoga and Pilates sessions.
Centr – Another effective app with lots of varied workouts, meal plans and meditation sessions, although the meal plans are time-consuming.
Zwift – Apps can also help you power through sessions on cardio machines, especially ones like Zwift, where your indoor cycling or running powers an on-screen avatar in a virtual world.
Peloton – Many home cardio machines now link up to apps, and Peloton is the most well-known home spinning experience, containing a huge library of cycling and other workouts. You can also find third-party apps like iFit and Kinomap that can link to a variety of machines from different brands.
Apple Fitness+ – If you have an Apple Watch then Fitness+ is a fantastic app with all kinds of guided workouts to follow.
30-Day Fitness Challenges
If you want to keep things as simple as possible with your home workouts, a 30-day challenge is the way to go. Pick one exercise, or one part of the body you want to target, and just hammer away at it for a full month. You'll be amazed how much you can progress, and also how doing even just one type of exercise over and over again can improve your overall fitness. Hopefully, by the end of the 30 days, you'll have caught the fitness bug and be ready to embark on a more rounded workout programme.
To get you started here are five of our favourite 30-day challenges for you to try:
Sign up for workout ideas, training advice, reviews of the latest gear and more.